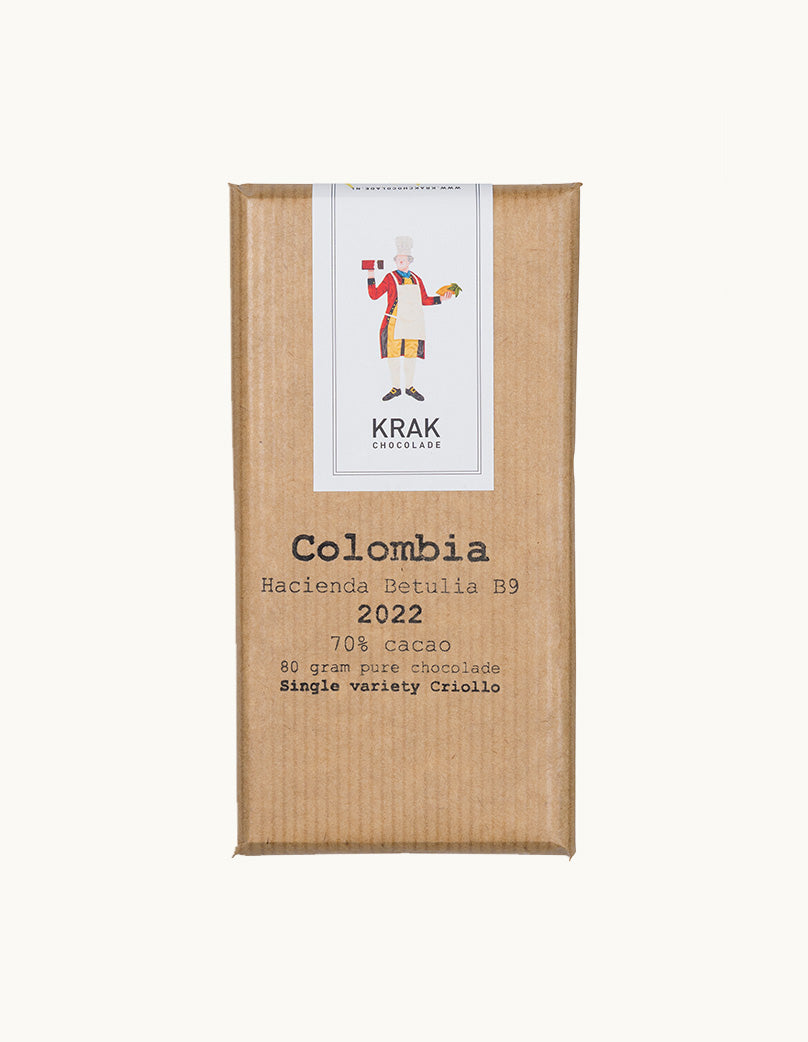 Colombia - Hacienda Betulia B9 70%
Regular price

€8,22

Sale price

Unit price

per
Colombia - Hacienda Betulia B9 70%
Hacienda Betulia is exclusively growing three fine flavour Criollos:
B6, B8, B9.
The B9 clone shows a dynamic and powerful flavour profile ending with refreshing notes of ripe pineapple and exotic star fruit – expressing a rich bouquet of beautiful nuances over time. B9 is the first choice for limited, high-profile chocolate.
The highly complex and unique flavours of our Premium Criollos inspire and serve as the basis for highly exclusive specialty products.
All three variants provide a delicious taste of cacao with beautiful fruit notes (see sensory evaluation diagrams below). The rare, complex flavours of Criollo Betulia allow the production of unique high percentage rich cacao products with an exclusive mix of complex flavours. 
Only small, controlled quantities of all three Betulia variants are available every year.

Hacienda Betulia was founded by two cousins, Juan Pablo and Christian Vélez, in a traditional cacao cultivation region in the north-western province of Antioquia, near the town of Maceo. The beautiful landscape is located to the east of the provincial capital Medellin.
Our Hacienda succeeded with the vision of growing an organic Colombian Cacao Criollo with rare and complex flavours, without the typical bitterness of other cacao varieties. A pure, single variety Cacao with great aroma and an exquisite taste. Our Cacao Betulia is free of measurable Cadmium and Lead accumulations.
https://www.cacaobetulia.com/