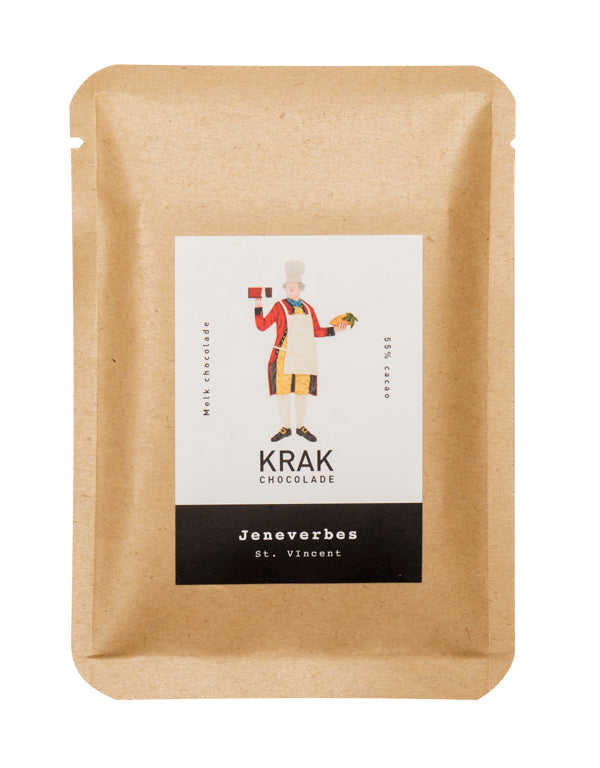 Juniper- St. Vincent – Milk Chocolate with juniperberrie 55% 30 gram
Regular price

€3,51

Sale price

Unit price

per
Krak Chocolade embraces tradition and innovation in crafting exquisite chocolates that delight our devoted fans and newcomers alike.
While our 70% single-origin bars focus on fruity and acidic notes, crafting milk chocolate is a unique journey. It harmonizes sweetness, creaminess, and cocoa, echoing Mark Schimmel's days as a pastry chef, prioritizing texture, melt-in-the-mouth quality, and flavor combinations.
We've introduced milk chocolate infused with juniper berries, recalling Mark Schimmel his patisserie days, seeking fresh, zesty notes or a hint of bitterness, like lemongrass, lime leaf, verbena, cardamom, and juniper. The juniper's essential oils evoke a piney, citrusy walk in the woods.
Originating from distant lands but blending seamlessly with Dutch flavors, this milk chocolate pays tribute to the Netherlands' flavor richness. This milk chocolate isn't just a treat; it's a journey, a fusion of global and local flavors, a testament to chocolate making. Experience innovation and tradition in every bite.
Region & Country: Saint Vincent and the Grenadines
Harvest Season: Nov – Mar (Main) Apr – Oct (Mid-crop)
Cocoa's roots in Saint Vincent date back to the 18th century, introduced by British colonists. Its significance waned as banana exports took center stage. In 2009, after banana exports lost European tariff protection, a trading company invested in cocoa. In 2014, it passed to devoted Vincentians, birthing the Saint Vincent Cocoa Company.
With 250 hectares and collaboration with around 100 local farmers tending 2-hectare plots, cocoa thrives alongside banana, plantain, ginger, maize, and indigenous root varieties. Tall coconut, melina, and mahogany trees provide vital shade.
A central facility manages fermentation and drying, culminating in a state-of-the-art solar dryer, perfecting beans' moisture levels to 6-7%.