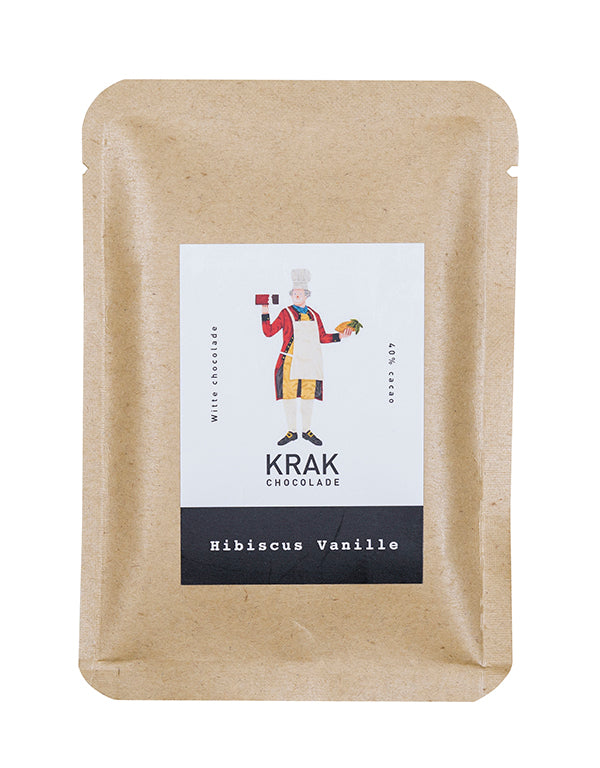 Hibiscus/vanilla white 40% 30 gram
Regular price

€3,51

Sale price

Unit price

per
 A white chocolate bar 40% with hibiscus and vanilla mini bar 30 gram.

At Krak Chocolade, we are proud of our long-standing tradition of creating delicious chocolates that both longtime fans and new customers love. Our White Chocolate Bar with Hibiscus and Vanilla is a perfect example of our commitment to crafting chocolates with bold and unique flavors. This beloved item from our range continues to impress with its distinctive and rich blend of tastes.

Discover the flowery and tangy hints of hibiscus, a unique choice that brings a burst of freshness and a touch of the exotic to each bite. This special combination creates a chocolate that's not only tasty but also a hit with those looking to try something new.

The gentle touch of bourbon vanilla from Madagascar works wonderfully with the hibiscus, adding a creamy smoothness that delights the palate and gives the chocolate a rich, lush feel.

Let yourself be carried away on a flavor adventure, where each piece offers a new discovery in a tale of intricate yet harmonious tastes. The mild white chocolate serves as the perfect backdrop, letting the standout ingredients - hibiscus and vanilla - really shine.

Whether you're a chocolate expert or just looking for a new taste adventure, our White Chocolate Bar with Hibiscus and Vanilla is the perfect choice for anyone keen to rediscover the pleasure of chocolate.

Treat yourself to an exceptional taste experience. Order your White Chocolate Bar with Hibiscus and Vanilla now, and get ready for a chocolate adventure that's different from anything you've tried before.

This was 1 of my flavor pairings in the time I was a pastry chef. The delicate, sweet and creamy white chocolate balanced with the Fresh and sour Hibiscus flower. They use Hibiscus drinks as a "thirst quencher" 
I created this bar for summer back in 2017
A silver medal in International Chocolate Awards 2018